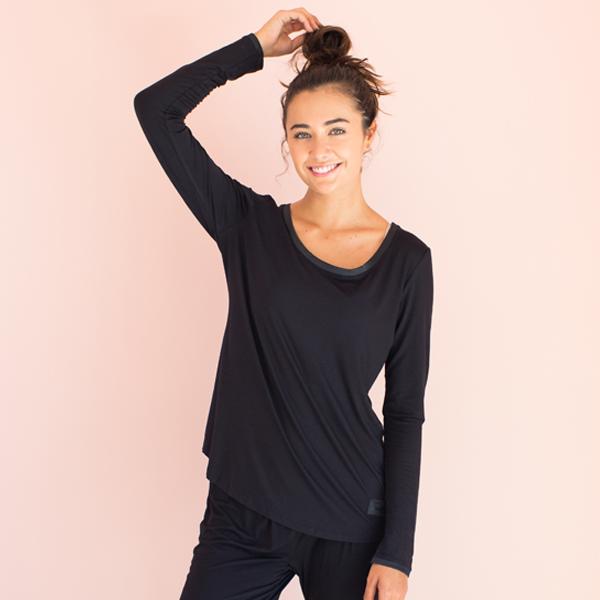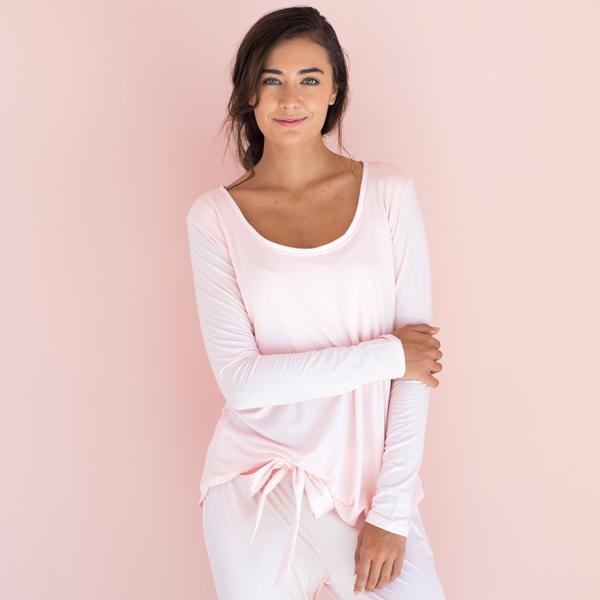 Bamboo Long Sleeve Shirt
95% rayon from organically grown bamboo, 5% spandex
Our indulgent proprietary fabric has incredible drape, a lustrous, silky feel and launders easily.
Moisture wicking, thermo-regulating, naturally odor resistant, and UV Protection of SPF 50+.
Generous and loose-fit design. If in doubt, size down. See sizing guide at left.
A classic long sleeve t-shirt with a scoop-neck design and satin trimmed cuffs and neckline.
Perfect oversized pajama shirt for lounging at home or throwing over your favorite jeans on the weekend.
Our most generously cut shirt. This slightly oversized T looks adorable on smaller girls paired with the sleep leggings. Paired with the loose fit pajama capri pants with the wide elastic waistband, it is a favorite combo of full size customers. Highlight the "discretion" lining in the chest – not a bra, just a little more coverage for the girls!
Delicate satin trim on the neckline and sleeves balanced with the loose flow of this classic long sleeve t-shirt will make it a cozy favorite any time of year. The details count and we've included a light lining in the chest– not a bra, just a little more coverage for the girls! Mix and match this classic T with any of our bamboo bottoms for a snuggly duo of comfort at home. Throw it over jeans for casual weekend wear or wear it as a base layer under winter sweaters. It's naturally odor-resistant which makes it a great travel layer that can be worn for a few days before it will need laundering!